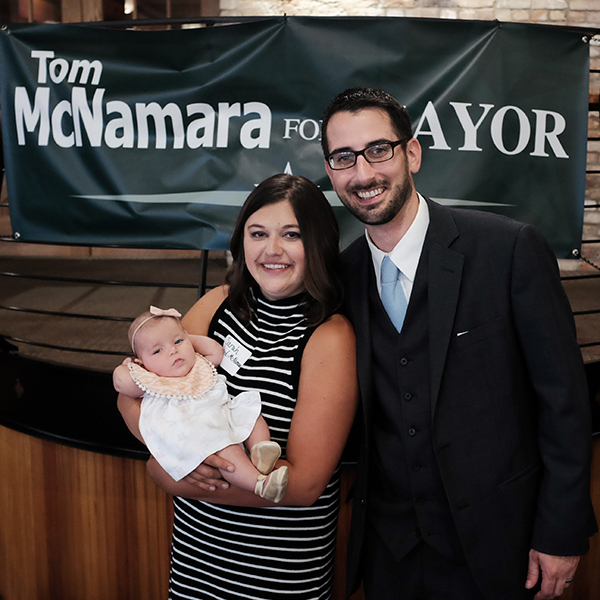 Tom was born and raised in Rockford. He is a strong advocate for the region with a firm belief in the importance of community service. Tom currently serves as Rockford's 3rd Ward Alderman, representing constituents on Rockford's east and west sides, as well as downtown. He is the son of John & Barbara McNamara. He has five brothers and sisters: Nell, Mary, Dan, Kate & John. He met his wife Sarah Ann Reed at the Greenwich Village Art Fair. They were married in May 2011 and welcomed their baby girl Olympia in February 2016.
Tom is graduate of Rockford's Boylan Catholic High School. He earned a Bachelor of Science degree in Sociology and Criminology at John Carroll University in Cleveland, Ohio in 2005. He also earned a Masters degree in Non-Profit Administration from John Carroll University in 2008.
Tom is an insurance agent with Eckburg Insurance Group, a locally owned family business. Tom's practice focuses on protecting business assets, with an emphasis on serving non-profit organizations. Prior to joining Eckburg Insurance Group, Tom was the Career Development Specialist for Goodwill of Northern Illinois. He developed programs and wrote grants to help people with disabilities become self sufficient and enjoy all of the benefits of self-sufficiency – pride, dignity, self-worth, and the ability to support their families and give back to their communities.
Tom previously served as the County Work Release Coordinator for Alternatives Agency, Inc. in Cleveland, Ohio. Tom developed and implemented programs aimed at reducing recidivism by providing ex-offenders opportunities for education, job training, housing, and drug & alcohol counseling, including opportunities for religious-based support. The purpose of the programs was to address crime at the root cause. Providing people with avenues to succeed makes them less likely to turn back to drug addiction and crime.
Tom also served as a legislative intern for U.S. Senator Dick Durbin, where he met with non-profit and community organizations on behalf of the Senator.
As 3rd Ward Alderman, Tom has introduced and sponsored key legislation to invest in neighborhoods, make our community safer, and protect taxpayer dollars. He sponsored the mow-to-own program and residential owner-occupied tax rebate program. The residential owner-occupied tax rebate program allows single-family owner-occupied homeowners who purchase and renovate foreclosed or homes in short sale to have their City taxes rebated for three years. Tom brought together key government agencies, including the Rockford Public Schools and Rockford Park District, to join the program as well. Through Tom's initiative, participants can now receive tax rebates for up to 88% of their entire property tax bill. Under the mow-to-own program, property owners who maintain and improve vacant City-owned lots adjacent to their homes are able purchase the properties using only sweat equity at zero or substantially reduced costs.
Tom has also worked to increase the number of blighted and abandoned homes demolished by the City. Prior to Tom joining City Council, the City only demolished 20 abandoned homes per year. Now, the City demolishes over 100 homes per year.
Tom voted to increase the City's authorized police force. Since 2008, the City's the police force has grown from 285 to 297 officers. As Mayor, Tom will work to add even more police so that officers are out in our neighborhoods walking our streets and building relationships with residents.
As Alderman, Tom has worked hard to protect taxpayer dollars. He has worked with City Council to keep Rockford's tax levy flat 3 years in a row for the first time in 40 years, and actually reduced the levy in 2016. As Mayor, Tom will advocate for lower tax rates and will appoint members to taxing bodies who are fiscally responsible and share a likeminded responsibility to reduce wasteful government spending.
Tom also created an Ad-Hoc committee to develop and implement uniform guidelines for Rockford's TIF districts. Previously, the City had no objective criteria for awarding TIF funds to developers. Consequently, the City made high risk investments that ultimately cost the City money. Under Tom's leadership, the City now has an objective criteria for scoring TIF applications and only allows "pay as you go" TIFs, meaning developers can only receive funds as they are accrued in the TIF. In addition, developers using TIF funds are no longer able to contest their taxes. The guidelines also allow the City to prioritize developments it approves for TIF money.
Tom serves on the City Council's finance & personal, planning & development, and legislative & lobbying committees. He is Chair of the Housing Committee.
Tom is actively involved in the community. He was the past president of the Ignite Young Professionals and vice president of the Signal Hill Neighborhood Associations. He previously served as Co-Chair of Money Smart Week. He serves on the Midtown Advisory Council for United Way of Rockford River Valley. He is a Strategy Team Member for Next Rockford and a member of the Engage Team for Transform Rockford.
He also serves on the board of directors of the Northwest Community Center, Friends of the Coronado, and Rockford Area Arts Council. He is a member of the NAACP, League of Women Voters, YMCA Outreach Council, and Churchill's Grove Neighborhood Association.
Tom, Sarah, and Olympia live in the Churchill's Grove neighborhood. Tom is an avid Cubs fan and a mediocre golfer.